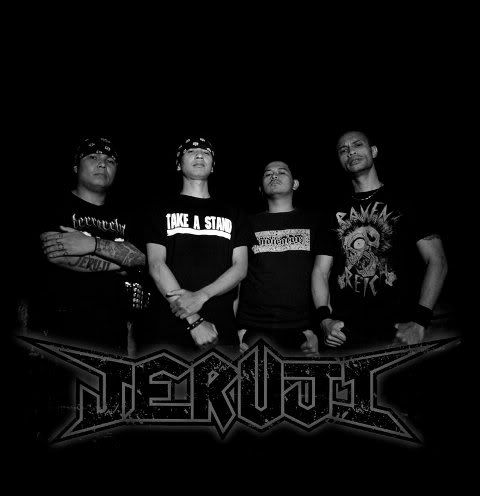 JERUJI | New album release: "Warlock" (Rockabilly Records, 2010) | Press Conference & Hearing Session
Hari/ Tanggal: Minggu, 16 Januari 2011
Pukul: 15.00 – 18.00 WIB
Venue: Common Room, Jl. Kyai Gede Utama no. 8
Deskripsi Singkat
Setelah menunggu selama kurang lebih 6 tahun sejak merilis album berjudul "3rd" (Subciety Records, 2004), akhirnya Jeruji menelurkan album baru dengan titel "Warlock" (Rockabilly Syndicate Records, 2010). Mengawali debutnya di kota Bandung pada tahun 1996 dengan nama Mutan X yang diawaki oleh Aldonny "Themfuck", Heru, Dicky dan Hendra, sampai saat ini Jeruji telah dikenal sebagai band lokal karismatik yang secara konsisten berkarya di jalur musik cadas.
Pada tahun 1997, singel mereka yang berjudul "No Really Competitions" di rilis dalam sebuah album kompilasi yang berjudul Bandung's Burning (Riotic Records, 1997). Pada tahun yang sama, lagu mereka yang berjudul "Pianjingeun" dirilis dalam album kompilasi "Injak Balik" (Tian An Men 89 Records, 1997). Setelah malang melintang selama beberapa waktu, pada tahun 1998 akhirnya Jeruji merilis album pertama mereka yang berjudul "Freedom" (41 Records, 1998).
Selanjutnya eksistensi Jeruji semakin diakui dalam skena musik underground di Indonesia. Pada tahun 2000 mereka merilis album kedua yang bertajuk "Lawan" (Napi Records, 2000), dengan melibatkan Robby pada seksi gitar yang memberikan karakter baru bagi musik Jeruji. Beberapa karya mereka kemudian juga di rilis dalam berbagai album kompilasi yang diantaranya adalah A Ticket to Ride (Spills Records, 2001), yang notabene merupakan upaya penggalangan dana bagi pembangunan skatepark yang diinisiasi oleh Indonesian Skateboarding Association (ISA) dan Spills Records.
Pada tahun 2001, Jeruji juga ikut serta dalam rekaman album live yang bertajuk 4 Harvest Live Recording (Star 41 Records, 2001). Dalam kesempatan ini, Jeruji menyertakan beberapa karya mereka dalam album kompilasi live band underground Bandung yang pertama bersama Puppen, Forgotten dan Blind To See.
Saat ini Jeruji semakin menegaskan eksistensi mereka dalam skena musik tanah air dengan merilis album terbaru yang beredar secara resmi di kota Bandung pada tanggal 25 November 2010. Kali ini Jeruji hadir dengan anggota yang terdiri dari Themfuck (vokal), Sani (Drum), Pengex (Bass) dan Aleandre (Gitar). Dengan formasi ini, Jeruji melanjutkan semangat penjelajahan musikal mereka dengan mengedepankan karakter musik cadas yang merupakan mutasi dari berbagai latar belakang dan pengaruh yang dibawa oleh setiap personil mereka.
Kehadiran Aleandre (Full of Hate) dan Pengex (Take A Stand) secara khusus memperkaya nuansa album baru Jeruji dengan sentuhan New York HardCore/ Oldskool Hardcore yang telah berurat akar dengan pengalaman musikal mereka berdua. Namun begitu, album terbaru Jeruji tetap berpijak pada spirit yang sama: kritik dan refleksi yang berasal dari pengalaman hidup sehari-hari. Lebih jauh, album ini mencerminkan protes dan ketidakpuasan mereka atas berbagai bentuk ketidakadilan yang terjadi di sekeliling kita saat ini.
Jeruji are:
Themfuck (Vokal)
Aleandre (Gitar)
Pengex (Bass)
Sanny (Drums)
DISCOGRAPHY
No Really Competitions (single) | Kompilasi Bandung's Burning (Riotic Records, 1997)
Pianjingeun (single) | Kompilasi Injak Balik (Tian An Men 89 Records, 1989), piringan hitam '7 inci (hanya beredar di Perancis)
Freedom (album) | 41 records, 1998
Broken (single) | Kompilasi Brain Baverages (Harder Records, 1998)
Pianjingeun (single) | Kompilasi (All System Fail records + Tian An Men 89 Records, 1999), CD (hanya beredar di Jepang)
Drunk With Power (single) Kompilasi A Ticket To Ride (Spills Records, 2000)
Lawan (album) | Napi Records, 2000
4 Harvest Live Recording | Kompilasi (Star 41 records, 2001)
3rd (album) | Subciety Records, 2004
For more info about JERUJI, please contact JERUJI Management: Megadeth (0816623225/ 0817205701)