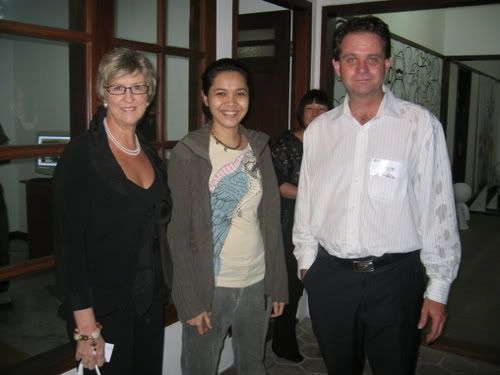 Pada tanggal 29-31 September 2007, Common Room menyelenggarakan pameran kecil berbarengan dengan pelaksanaan kegiatan International Education & Employability – Developing the Creative Industries yang diselenggarakan oleh British Council Indonesia. Selain pameran, bersama-sama dengan tim Bandung Experience Project, kegiatan ini juga dilengkapi dengan program kunjungan ke beberapa komunitas kreatif dan entrepreneur di kota Bandung. Adapun beberapa tempat yang dikunjungi adalah Urbane Indonesia, Airplabe Systm, MonikCeltic dan FFWD Records.
Selain itu, kegiatan ini juga menampilkan sesi presentasi yang menghadirkan Yusrila Kerlooza (Ketua Divisi Robotika UNIKOM). Kebetulan pada saat yang hampir bersamaan, Common Room tengah bekerjasama dengan Divisi Robotika Unikom untuk melakukan program kunjungan ke beberapa SMU di kota Bandung dalam rangka memperkenalkan perkembangan dan aplikasi teknologi robot. Ada sekitar 3 SMU yang kita kunjungi, yaitu SMUN 5, SMUN 24 dan SMUN 2. Kegiatan ini merupakan rangkaian program Common Room Fun Education Program yang rencananya akan diselenggarakan secara rutin setiap tahun.
Terkait dengan kegiatan Bandung Creative Showcase 2007, kita diminta untuk mempresentasikan beberapa kegiatan Common Room dan materi riset pengembangan ekonomi kreatif kota Bandung yang selama beberapa tahun ini dikembangkan bersama-sama oleh tim peneliti Common Room bekerjasama dengan beberapa teman dan komunitas kreatif yang ada di kota Bandung. Beberapa pengunjung memperlihatkan antusiasme mereka selama presentasi berlangsung, sebelum kemudian berkenalan dengan para seniman, desainer, peneliti dan teman-teman yang kerap aktif berkegiatan di Common Room.
Terimakasih kepada British Council Jakarta yang telah memberikan kesempatan untuk terlibat di dalam program ini. Selain itu, terimakasih juga buat teman-teman yang ikut terlibat dalam persiapan dan pelaksanaan Bandung Creative Showcase 2007. Mudah-mudahan di masa yang akan datang kegiatan-kegiatan serupa bisa lebih sering kita laksanakan sama-sama. Liputan kegiatan terkait dapat dibaca di: Kompas, Pikiran Rakyat dan The Jakarta Post. Foto dokumetasi kegiatan dapat dilihat di Heterologia.