Berawal dari 'gemas', lalu gereget, menjadi aksi, hingga eksis! Itulah titik awal sebuah proyek seni yang bernama 'The Urban Space Project'. Inisiatif ini dimotori oleh beberapa orang yang tergabung dalam BASEMENT, yang merupakan singkatan dari Bandung Street Art Movement. Gerakan ini merupakan sebentuk kepedulian untuk memperindah ruang publik di Bandung. Kota yang diusung dan dielu-elukan sebagai Kota Kreatif, secara visual dan estetik, selama ini ternyata carut marut di mana-mana. Poster-poster ditempel sembarangan, entah di tembok, seng, gardu, bahkan pohon. Spanduk dan baligo pun tak mau kalah. Hampir di sepanjang jalan atau perempatan jalan, selalu ada 'spot' bagi mereka untuk 'berpose'. Mencari perhatian bagi setiap orang yang melewatinya. Menjadikan diri mereka seperti seorang model cantik yang ditatap oleh siapapun yang sekedar melintas.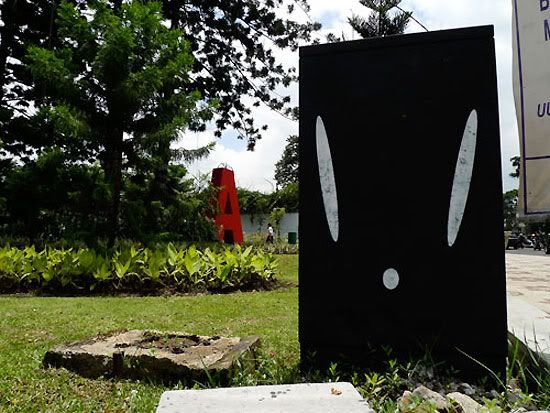 Berangkat dari situasi tersebut, BASEMENT yang terdiri dari Astronautboys, Bedlam, Kumkum, Machine56, Mondayz, Olderplus, Stereoflow, Tellthem dan The Yellow Dino menggarap proyek ini untuk "menghidupkan" kembali beberapa spot yang mati melalui kehadiran beberapa monster ajaib. Inisiatif ini kemudian berhasil memberi nyawa kepada sekitar 10 gardu listrik. Sayangnya hanya 9 gardu yang dapat bertahan agak lama karena salah satu gardu kemudian ditutup penuh oleh poster iklan komersial hanya beberapa saat setelah monster ini lahir.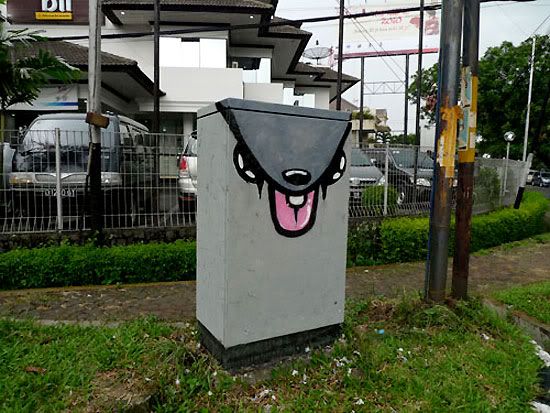 Sejauh ini beberapa sudut yang telah berhasil dihidupkan kembali adalah gardu listrik yang berada di Perempatan Simpang Dago, Taman Cikapayang, Perempatan Maulana Yusuf (Total Buah Segar), Braga, dsb. Keberadaan mereka sebagai makhluk yang baru menjadi penanda jalan dan penghubung antara ruas jalan yang angkuh dengan manusia yang acuh. Keduanya yang semula hidup sendiri-sendiri, menjadi saling menyadari dan bertegur sapa. So, thanks to BASEMENT!?
Foto-foto digunakan atas izin dari http://www.theyellowdino.com.
See more complete works at: http://www.theyellowdino.com/v01/the-urban-space-project.dino