Foto Oleh Idhar Resmadi
Tulisan "As long as you stay with me you're safe" terpampang dalam instalasi sebuah kursi dan gitar yang berada di area penonton. Kursi itu dilengkapi dengan selongsong bambu, sebuah harmonika, dan beberapa sobekan kertas. Para penonton mengernyitkan dahi melihat instalasi tersebut. Instalasi itu ditempatkan tak beda layaknya penonton. Diam dan statis. Jumlah penonton yang tak begitu banyak memadati ruang Auditorium CCF Bandung itu terheran oleh penampilan musisi asal Perancis, Benjamin Laurent Aman. Mungkin hal itu dilakukan Benjamin untuk "memancing" apresiasi penonton, karena musik seni-derau (art-noise) yang dimainkannya sangat susah untuk diapresiasi oleh masyarakat awam.
Dalam penampilannya, ia tak hanya menyajikan musik seni-derau (art-noise) kepada penonton. Setiap kali musik menyala lampu venue berubah terang, sebaliknya ketika satu lagu telah selesai lampu pun kembali padam. Hal ini kontras dengan apa yang ditampilkan para band-band sebelumnya. Konsep matang yang memadukan instalasi rupa, suara, dan cahaya menjadi satu konsep tertentu yang ingin disampaikan oleh Benjamin Aman. Ia bermain seolah berada pada ruang suara dan cahaya yang mengitari seantero ruangan Auditorium. Ia bermain di mana cahaya dan suara adalah satu bentuk utuh dari suatu irama.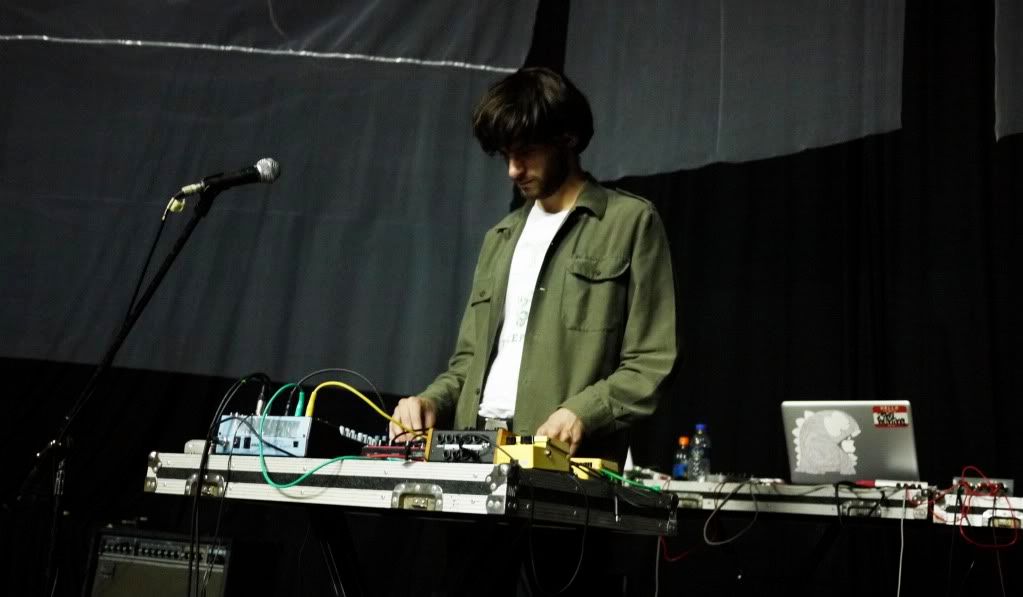 Foto Oleh Idhar Resmadi
Penampilan Benjamin Laurent Aman di Bandung hadir untuk meramaikan konser Silent Zone in conjunction with The Ostend Emerge: an Openlabs Audio Compilation Launching Party. Sebelumnya musisi asal Perancis yang kerap berkarya di Jerman ini tampil pula dalam beberapa show-show kecil di Bandung seperti Pembukaan Pameran The Loss of the Real dan sebuah sesi kecil di Common Room Bandung.

Foto Oleh Idhar Resmadi
Konser ini dirayakan untuk menyambut rilisnya album kompilasi Openlabs. Sekitar delapan band elektronik hadir meramaikan launching tersebut. Openlabs sendiri merupakan komunitas musik elektronik di Bandung yang telah eksis sejak tahun 2007. Band-band pengisi konser pun berasal dari komunitas tersebut yang diantaranya yaitu Asturiaz, Bottlesmoker, Do Ear, Europe in de Tropen, Slylab, Space and Missile, text/tuRE, dan #KRESS. Acara ini pun dikolaborasikan dengan visual dari VJ-VJ Open Labs seperti  Diskjim, Admiral, 19ate6, dan Isha Hening.
Konser yang dimulai pukul tujuh malam itu memberikan eksistensi berarti bagi pegiat musik elektronik. Rilisnya album kompilasi bergenre elektronik boleh dikatakan 'milestone' bagi komunitas ini untuk memperlihatkan karya musiknya kepada khalayak banyak. Notabene musik-musik elektronik yang dimainkan oleh komunitas Openlabs berada di wilayah yang segmented. Band-band yang tampil dalam konser ini memiliki ragam warna karakter musiknya. Ada musik-musik elektronik dengan sentuhan downtempo dan shoegaze seperti Asturiaz dan Slylab, atau warna post-rock instrumental dari Space and Missile, electropop-nya Bottlesmoker dan Europe in de Tropen, electroglitch dari text/tuRE, hingga drum n bass dari #KRESS dan Do Ear.