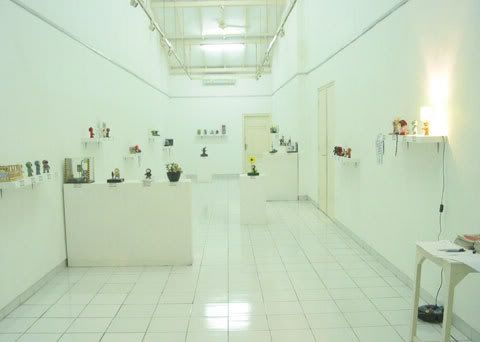 Sejak awal tahun 2008, kegiatan di Common Room bertambah ramai dengan inisiatif dari teman-teman yang datang dari latar belakang yang semakin beragam. Sebelumnya, pada akhir tahun 2007, Common Room ikut memfasilitasi pembentukan Bandung Creative City Forum. Pertemuan pertama yang membicarakan rencana pembentukan forum dirintis pada acara community gathering di Common Room pada tanggal 25 Desember 2007. Selanjutnya working group Bandung Creative City Forum secara resmi dibentuk di Common Room pada tanggal 7 Januari 2008.
Rencananya, forum ini akan mengembangankan program Bandung Creative City dan menginisiasi beberapa kegiatan yang dirangkum dalam acara Helar Festival yang akan diselenggarakan di sepanjang tahun 2008. Beberapa diantaranya adalah kegiatan Nu-Substance Creative Media 2008 (Common Room), Artepolis (Arsitektur ITB), KickFest2008 (KICK), Freedom Jazz Festival 2008 (Jendela Ide), Deathfest 2008 (Ujungberung Rebels), dsb. Informasi mendetail untuk kegiatan ini akan kami update secepatnya.
Salah satu kegiatan yang menarik di awal tahun adalah pameran Capo (NLS) yang diselenggarakan pada tanggal 15 s/d 25 Januari di Galeri LIP Yogyakarta oleh teman-teman dari NoLabelStuff. Pameran ini menampilkan kurang lebih 50 karya custom toys yang dibuat oleh para seniman dan komunitas kreatif di kota Jakarta, Bandung dan Yogyakarta. Selain pameran, kegiatan ini juga dilengkapi dengan diskusi yang dihadiri oleh para mahasiswa. Capo kemudian dipamerkan di kota Semarang pada tanggal 5 – 15 April 2008. Pameran diselenggarakan di Rumah Seni Yaitu dan mendapatkan sambutan yang hangat dari khalayak kota Semarang.
Sementara itu, Common Room juga ikut membantu menyelenggarakan acara bedah buku Myself: Scumbag, Beyond Life and Death (Minor Books, 2007) yang menghadirkan beberapa pembicara seperti dr. Teddy Hidayat, SpKJ (Psikiater), Drs. Reiza D. Dienaputra, M. Hum (Ahli sejarah), Prof. Dr. Ignatius Bambang Sugiharto (Filsuf), Andy Fadly (Musisi) dan Kimung (Penulis buku Myself: Scumbag, Beyond Life and Death). Selain bedah buku dan diskusi, acara ini juga diselingi dengan pertunjukan musik akustik dari kelompok Burgerkill yang diselenggarakan di Selasar Sunaryo Artspace pada tanggal 19 Januari 2008.