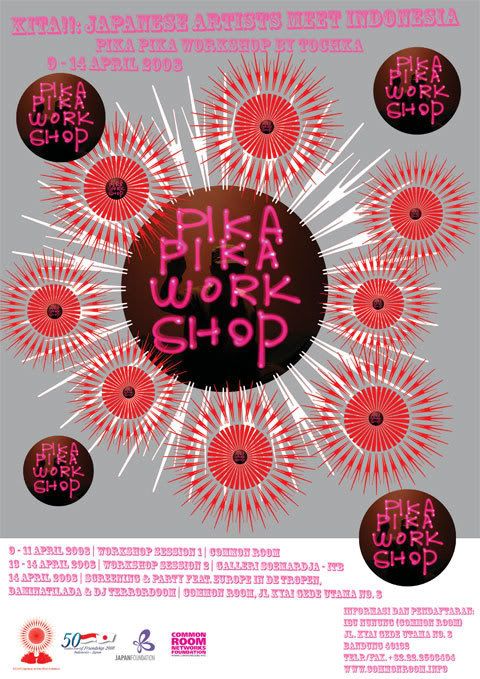 Pada tanggal 9 s/d 14 April 2008, Common Room bekerjasama dengan Japan Foundation menyelenggarakan workshop video Pika Pika yang diinisiasi oleh Tochka, duo seniman Jepang yang terdiri dari Takeshi Nagata dan Kazue Monno. Selama kurang lebih 2 minggu, kedua seniman ini bekerjasama dengan warga kota Bandung untuk membuat video Pika Pika versi lokal yang juga memanfaatkan karya musik dari para musisi tradisional Sunda seperti Agus (Bonang), Mang Ayi (Trompet) dan Jimbot (Kendang). Informasi mengenai proyek ini bisa dibaca di halaman Jakarta Post.
Karya video animasi dari kegiatan ini diputar pada tanggal 21 April 2008 di Selasar Sunaryo Artspace. Program ini merupakan rangkaian dari Proyek Kita!!, yang merupakan bagian dari perayaan 50 tahun hubungan diplomatik antara Jepang dan Indonesia. Selain melakukan serangkaian kegiatan workshop dan pameran di Bandung, program ini juga diselenggarakan secara serempak di kota Jakarta dan Yogyakarta.
Pada saat yang hampir bersamaan, Common Room juga kedatangan 2 orang personil DFuse (UK), yaitu Barney dan Mike yang datang untuk melakukan riset di kota Bandung sejak tanggal 7 s/d 14 April 2008 atas dukungan dari British Council Indonesia. Beberapa tempat yang mereka kunjungi selama berada di kota Bandung adalah Common Room, Pabrik C-59, Pabrik Kopi Aroma dan beberapa lokasi di daerah Lembang, Gunung Manglayang dan Ujungberung. Beberapa foto hasil riset ini dapat dilihat di halaman flickr milik Barney di link berikut.
Selama berada di kota Bandung, kedua seniman ini merekam dan mengumpulkan berbagai informasi mengenai kota Bandung dengan menggunakan kamera video dan foto digital. Rencananya materi yang dihasilkan melalui riset ini akan ditampilkan dalam pertunjukan DFuse (Surface/ Re-emagining The City) yang akan diselenggarakan berbarengan dengan kegiatan Helar Festival di bulan Agustus 2008. Setelah melakukan penjajakan dengan beberapa seniman dari kota Bandung, DFuse juga berencana untuk berkolaborasi dengan beberapa seniman lokal dalam pertunjukan mereka yang mendatang.
Awal tahun ini Common Room juga bekerjasama dengan teman-teman OpenLab yang menyelenggarakan kegiatan rutin untuk bereksplorasi sekaligus mewadahi perkembangan komunitas dan musisi elektronik di kota Bandung. Setelah menyelenggarakan beberapa kegiatan rutin di Common Room, mereka menggelar konser The Ostend pada tanggal 27 April 2008 dan menampilkan beberapa vj dan musisi elektronik lokal seperti DaMiNaTiLaDa, Killafternoon, Musik Elektrik, These R Fake, Bersekutu Dengan Disko dan Souldelay. Konser The Ostend didukung oleh EAT sebagai sponsor utama dari kegiatan ini. OpenLab akan kembali terlibat dalam pelaksanaan kegiatan Nu-Substance Creative Media 2008 yang rencananya akan diselenggarakan pada akhir bulan Juli 2008 sampai awal bulan Agustus 2008.